WELCOME TO FITNESS NEW BRUNSWICK
A112A L.B. Gym, 2 Peter Kelly Drive, University of New Brunswick, PO Box 4400, Fredericton, NB E3B 5A3
T: (506) 453-1094 F: (506) 453-1099
Like and Join us on Facebook!
FNB Notices:
Fitness New Brunswick Coronavirus Update: May 28, 2020
The province has moved into Re-opening Phase Yellow. However, during this Phase not everything can begin immediately.
There are separate stages within the Yellow Phase.
The sections that will affect the Recreation sector the most can recommence Friday, June 5th.
Changes allowed to happen as of June 5th:
Outdoor public gatherings of 50 people or fewer will be permitted with physical distancing.
The following will be permitted to open:

swimming pools, saunas and waterparks
gyms, yoga and dance studios
rinks and indoor recreational facilities
Some key points to keep in mind:
Fitness Leaders and Personal Trainers will need to observe the directives and advice contained in the Mandatory Order and provided by the Chief Medical Officer of Health and WorkSafe NB. See links below for information.
The onus will be on Facilities/clubs to modify their programming as needed in order to create low-contact environments
The responsibility will be on Facilities/clubs to ensure they have operational plans in place that outline how they will manage the safe operation of their offices and programs (including but not limited to physical distancing, cleaning and disinfecting, hand and respiratory hygiene, screening).  Note: If as a Fitness Leader/Personal Trainer you are renting a space for your classes or clients you are responsible to follow the directives of the facility you are using and also to have your own operational plan for the space that you rent.
Operational plans will not be reviewed or approved by Public Health or WorkSafe NB, but will need to be readily available upon request of the proper authorities.
Where can I find:
The most recent information on GNB Covid-19 response? www.gnb.ca/coronavirus and Frequently Asked Questions
The Covid-19 operational Plan Guide
Guidance document of General Public Health Measures During Covid-19 recovery
Guidelines for the Workplaces? Embracing the new normal as we safely return to work.
Covid-19 Operational plan Template: A template is available on page 16 of the WorkSafe NB "Embracing the new Normal" document.
Risk Assessment examples: Risk Assessment Guideline Health Canada
ONLINE OR VIRTUAL DELIVERY OF SERVICES UPDATE
HUB insurance has been working tirelessly with our insurer, Markel, to develop a reasonable extension for NFLA Fitness Leaders to deliver online training during this pandemic.  We thank you for your patience.
Note: Exclusion: This Insurance Policy provides no coverage for any Claim in any way caused by, arising out of or resulting from any disease or contagion (See attached)
Currently your policy provides coverage to any fitness leader that conducts online training as long as it is within 10% of their annual gross revenue. Please note, the 25% stated earlier is no longer available; however; as an accommodation until September 30, 2020, your insurers have agreed to lift the restriction and extend coverage to any fitness leader or personal trainer, subject to the following restrictions:
(See premium information at bottom regarding revenue generated)
– All participants must be existing registered clients.
– Participants must login to the permitted delivery tool, and register to participate in a class.
– Publicly accessible broadcast tools such Instagram Live, Facebook Live, YouTube, etc. and pre-recorded videos are not acceptable methods of delivering online training.  This is because these platforms do not allow two way video and communication for fitness leaders to determine if participants are in distress, or performing exercises in a way that could lead to injury.
– Permitted delivery tools must include the use of controlled, multi-screen video conferencing programs with two-way video and communication, such as Skype or Zoom.
– All injuries must be documented.
Instructors must advise HUB International Insurance Brokers in writing before initiating online classes, and include the following information:
1.       Number of online classes per week
2.       Instructor's remote location, bearing in mind facilities are closed
3.       Class content (activities to be conducted)
4.       Number of participants per class (ensure all participants are current registered clients before the start of the session)
5.       Class is limited to the number of participants that can be viewed on a single screen, with no more than four (4) participants in one location while following Provincial Physical Distancing Guidelines
6.       Participants must have completed the necessary Par-Q + forms.
– Instruction to professional athletes and carded amateur athletes is strictly prohibited.
-Coverage does not extend to work-related rehabilitation of any condition.
If fitness leaders will be conducting online classes that exceed 10% of their gross revenues, they will need to contact us directly at TOS.Team-FitnessLeaders@hubinternational.com or 604-269-1919 to have an endorsement issued.
The additional premium charged will be $10.00.
Office/Membership information
The health and wellbeing of individuals and communities is at the center of what we do.
FNB believes it is essential to take measures that reduce the potential spread of this virus.
The FNB office is currently closed until further notice.  As our office is located on the UNB campus we are bound by their directive.
We want to keep you our members notified about our courses and our certified leaders informed, as you make decisions about offering classes and/or training in the current COVID-19 environment.
FNB COURSES: The FNB courses scheduled will be postponed until further notice.  Rescheduled dates will reflect the timeline of re-opening of the course location facitlities. Updates will be posted on the FNB website and Facebook as information is released to us.
We are working on a plan to offer virtual courses where applicable and are in the process of piloting once such course with the goal to prepare great opportunities for our members to become FNB certified leaders.
MEMBERSHIP RENEWAL: During this time of uncertainty, FNB will accept membership and insurance payments without late fee penalties up to June 30, 2020.
CPR/FIRST AID (FA) CERTIFICATION RENEWAL
CPR/FA Policy Reminder
The FNB policy states that your CPR must be current annually and your FA Certificate must be current according to the expiry date on your card if you are practicing or delivering fitness classes:
•  We are aware that some people may need to postpone your annual CPR and/or FA updates, please do not wait to pay your membership and insurance fees as we have the capacity to honor the intent to renew CPR; however; the insurance fees still need to be sent to the FNB insurer to be valid.
•  All CPR and/or FA certifications which would have expired March 31, 2020, will be considered valid 90-days beyond their expiry date.
This will be re-evaluated as needed.
•  If you are currently registered for a CPR and/or a FA class, please contact the provider directly to inquire about rescheduling.
Please follow the Health Canada directives or contact your local facility for up-to-date and accurate information on how they are proceeding.
As the situation surrounding COVID-19 rapidly changes, we will continue to adjust our approach as needed.
To stay informed, refer to FBN's website and Facebook page regularly for updates.
We care deeply about the impact the current COVID-19 crisis is having on the fitness community.
We know that you will find creative ways to continue to stay mentally and physically healthy.
On behalf of the Fitness NB office staff and Board of Directors
Thank you for your understanding. Stay well.
Marilynn Georgas
Executive Director/Directrice exécutive
Please note that all courses are postponed until further notice.
We are working on a plan to offer virtual courses where applicable and are in the process of piloting once such course with the goal to prepare great opportunities for our members to become FNB certified leaders.
We are here to meet all of your fitness needs!
---
Congratulations Jason Hadland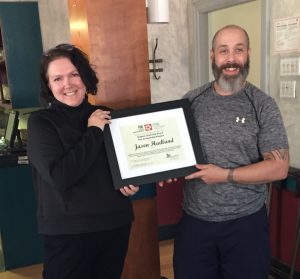 the 2019 FNB  Gina Simpson Award Recipient!
For more information, CLICK HERE
---
 FNB Members check the MEMBERS LOGIN page for:
Your FNB Members E-News with articles for CEC/PDCs.
Your certification information and status for membership renewal.
Up to date employment opportunities.